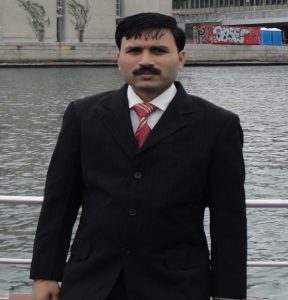 Dr. Manoj K. M. Chaturvedi, a Chartered Environmentalist, has been leading a strong multi disciplinary team at Environmental and Sustainability Division of Qatar Design Consortium at Doha (Qatar). He has been associated with and have contributed effectively in the areas of construction environment and sustainability management of key infrastructure and industry projects in Qatar including Hamad Port Project, FIFA2022 Stadium at Wakrah, Ras Abu Aboud, Khalifa and Al Bayt to name a few. He has also given consultation to Qatar Petroleum and Qatar Gas on EIAs and other specialist tudies.
In his past assignments, he lead the respective organizations in various capacities including as Deputy General ManagerCSR-UN Water Mandate at Hindustan Construction Company Ltd. (HCC), Mumbai and as Field Service Manager at GE (Power and Water) etc. He has honour of being one among 20 experts from across the world on the subject of Water and Environment Management at European Commission (EC) Belgium. On his individual capacity, he has been serving EC (since April 2018).
With a Doctorate (Ph.D.) in Environmental Science and Engineering from Indian Institute of Technology – Bombay (IITB), Dr. Chaturvedi is a Core Environment and Sustainability Specialist with more than 20 years of hands on experience. He has managed several projects funded by International Agencies including European Union, the World Bank, and SIDA as well as State and Central Government Agencies of India. He has also assisted Ministries of Housing and Urban Affairs (MoUHA) and Environment Forests & Climate Change (MoEFCC), Govt of India, in execution of JNNURM projects in city of Nashik on behalf of GIZ as environmental consultant.
He has been member of several professional bodies including International Organization for Biotechnology and Bioengineering (IOBB), Australia; Institute of Environment Management and Assessment, UK and Eco-Ethics International Union, Germany; Working group for development of India Water Tool, World Business Council for Sustainable Development (WBCSD); Water Action Hub (WAH) and Collective Engagement Working Group (CEWG), Private Sector Advisory Group (PSAG) of United Nations' The CEO Water Mandate.